The cold season is approaching and servicing the boiler is one of the most important things to do, Skylimit Heating is a boiler repairs company in Burnaby B.C. that is always ready to serve you.
Boiler installation, service, and repair services by skilled professionals and repairmen are the honors of Skylimit Heating, for emergency boiler repair Burnaby call us now.
and customer satisfaction is always our priority, For 24/7 Boiler repair Burnaby, boiler service in Burnaby, Boiler installation in Burnaby and boiler cleaning in Burnaby call us at 7788925119.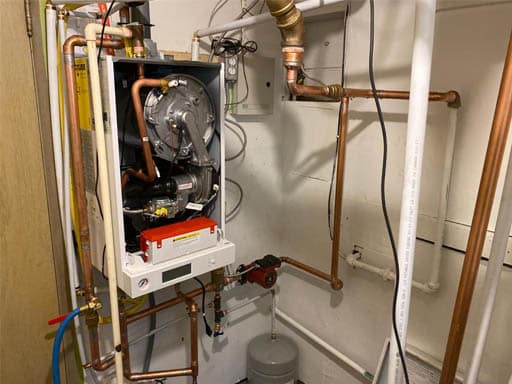 ---
Table of Contents
---
Emergency Boiler Repair Burnaby 24/7
If your boiler breaks down and you need a specialist boiler repairman, hold on and do not trust any repairman; because leaving the boiler repairs to non-specialists will cause more damage to the device.
Repair of all types of boilers in the world in different brands is done by Skylimit Heating, for boiler repair Burnaby Just calls the numbers listed on the site.
If you living in different areas we also cover Burnaby, Vancouver, Surrey, Richmond, North Vancouver, West Vancouver, Delta, Coquitlam, Pitt Meadows, Maple Ridge, White Rock, Coquitlam, and Port Moody, call or email us for more information about our locations coverage in Greater Vancouver and Fraser Valley.
---
Importance of Periodic Boiler Service in Burnaby B.C:
Boilers are neglected in the hot season. If the weather is cold, the attention to the boilers will be very high. As soon as the water cools in the cold season, it will be unbearable and you will look at the boiler.
Boiler service should always be done periodically by an experienced repairman. Otherwise, the device will be severely damaged and the risk of damage will increase, especially when you need it more than before, call our experts now for any boiler repair Burnaby 24/7.
Experts recommend servicing and descaling your boiler at least twice a year. Apart from this periodic service, you need to descale your boiler to solve some other common problems.
For example, if the boiler furnace is working well and the amount of fire seems to be sufficient but the water is not hot enough, you can be almost certain that a descaling service will solve your problem.
---
Boiler Maintenance after Installation:
After installing the boiler, we will maintain it, which is a very important issue. Improper maintenance of a product will damage it and increase the likelihood of an accident. Boilers are also accessories that can cause accidents if you are not careful in using them.
However, all boiler connections must be checked once in a while to avoid hazards. It is also necessary to solve the problems; the boiler must be serviced periodically, which is done by our specialists.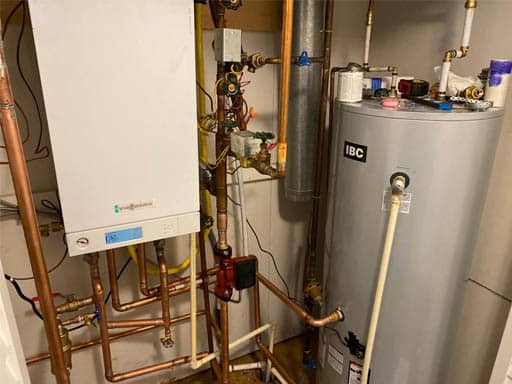 To maintain the boiler, it is necessary to clean all water inlet and outlet pipes and replace the filters. The chimney must also be constantly monitored. Remember that proper setup and choosing the right place to install a standard boiler will ensure the performance of your device.
---
Why is it Important to Clean the Boiler?
Physical pollution is the most important and common pollution of boilers. Most boilers have been moved to open spaces to save more space indoors, which increases the risk of them becoming contaminated with physical contaminants.
These contaminants may not be a problem for you in the short term, but over time they will severely affect your boiler operation. Ignoring the importance of washing and descaling the boiler may cause interruption of the service of this device or even in some cases serious damage to it.
Boiler descaling although it may seem very simple at first glance, the slightest mistake or negligence in any of the steps of doing so may cause irreparable damage to your device or, more importantly, threaten your health.
If you think you do not have the experience and skills to work with diluted salt ink, be sure to ask an experienced service technician to service your boiler.
---
Emergency Boiler Installation Burnaby B.C
As boiler experts, if for boiler repair Burnaby and boiler installation in Greater Vancouver and Fraser Valley and the best boiler service company with professional heating technicians.
Before You risk damaging your house and and your boiler itself if you have no proper boiler service and maintenance that keeps your boiler safe and clean.
And also ensure that your boiler is operating safely during cold winter, and consuming natural gas properly.
Boilers don't have many moving parts as forced-air heating systems like furnaces, so boilers tend to have long lifespans.
At some point, if you are going to have to replace your boiler with Skylimit Heating and gas for any boilers installation warranty we give you a one-year labor warranty and 8 years manufacturing warranty in Greater Vancouver, so if your boiler is just costing too much to run call us for new boiler installation.
---
What Should We Do to Check the Annual Safety Inspection?
Naturally, with the cooling of the air and being in the cold season, the use of gas appliances in homes and workplaces increases, but in this regard, we need to prevent some accidents by observing safety principles.
The boiler itself is not dangerous and in fact, it is used for the convenience and comfort of the family, it can be dangerous and catastrophic if the safety principles are not followed.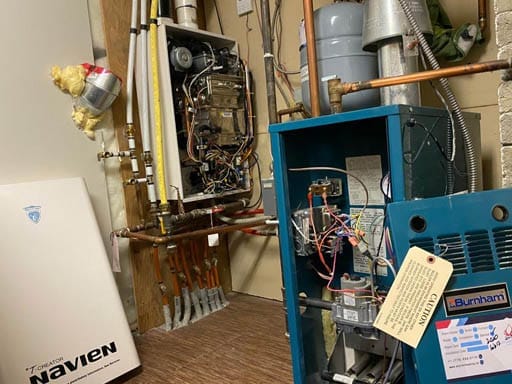 It is necessary to pay attention to the fact that installing a boiler in the bathroom or in a space where there is no normal airflow causes a lack of oxygen and causes suffocation.
Therefore, for gas appliances and especially boilers, the necessary predictions should be made regarding the entry of fresh air.
---
Burnaby Boiler Service Professional Checklist:
Check the heat exchanger
Control the venting spillage test
boiler control components
 thermocouple, surface igniter, and flame rod sensor
test for the gas leak and spillage of carbon monoxide
Inspect and clean the burners and the pilot assembly
piping systems and the venting
ventilation air checkup
---
Some of the Components That We Carry Are as Follows Below:
Transformers
Wall switch
Gas Control
Zone Control Valves
Back Flow Preventer
Aqua Stats
Water Regulator
Relays
Air Vents
Automatic Damper
Control Board
Control Module
Mixing Valves
pilot assembly
---
Boiler Brands We Repair, Service, and Install in Burnaby
---
Why Skylimit Heating?
We would like to tell you why we have offered you Skylimit Heating for boiler repair:
The reason why we recommend Skylimit Heating for boiler repair is that our company is a boiler repair agent for all brands.
Another benefit of Skylimit Heating is that you can place an order online. You can now place your order on this site without wasting any time to perform your boiler repair services and witness the unique Skylimit Heating service.
Skylimit Heating experts are proudly ready to answer and solve your problem everywhere; sometimes the problem is very serious and requires the presence of experts on-site to carefully review the package.
Skylimit Heating The authorized boiler repair and service center is ready to send a specialist boiler repairer for you.