Boilers have a sensitive structure and in boiler repairs, the expert must have comprehensive and sufficient knowledge and information about the performance of the boiler in order to be able to detect defects and breakdowns in different places by testing and inspection, so use expert people. It is essential to specialize in boiler repairs and be aware of how the steam and heat generator operates during continuous inspections.
Boilers Guide
Boiler Repair Services 24/7
For Boiler Repair, When winter weather starts in the Greater Vancouver area it can be really cold so for Boiler cleaning, Boiler service, Boiler Maintenance,
You have to prepare, also for that cold season which is having perfect conditions for heating systems like gas boilers. So If you hope to live comfortably throughout the cold winter, the only best thing is only to have a great.
Boiler system or newly installed gas boiler in your house, we offer the best boiler system maintenance and professional maintenance boiler for your family in Greater Vancouver, for 24/7 boiler cleaning call us at 7788925119.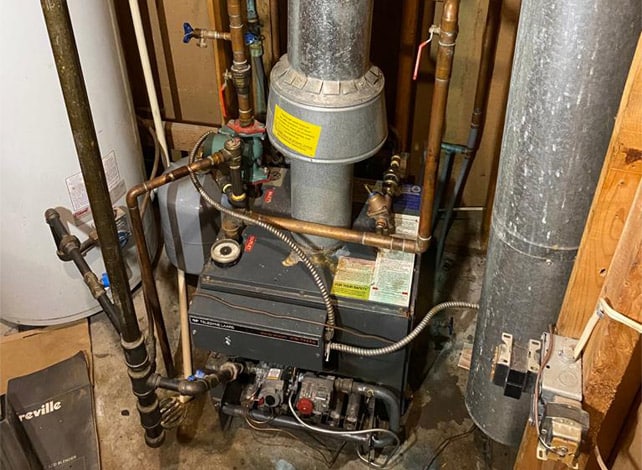 ---
Annual Boiler Service in Greater Vancouver
One of the main pieces of equipment of any house is a boiler. In fact, it is difficult to provide the necessary heat without proper boiler operation. For this reason, it is necessary to carry out the necessary boiler services and repairs before the arrival of winter.
Installation and commissioning of the boiler require professionals. Leave the installation and service of your boiler to these people, otherwise, you may cause a lot of damage. Also, if the boiler is installed by non-professionals, it may not work well.
At Skylimitheating we have gathered a collection of these experts. Contact us to install and service your boilers. We will guide you in this regard.
The following must be considered when servicing a boiler:
• Check that the air is sufficient to ignite the boiler burner
• Fill the system with water and control water dripping
• Control the valves open after reaching the working pressure
• Control the fountain valve in closed expansion sources or the amount of water in open expansion sources
• Control the correct operation of the safety valve by pulling the handle
Note: Keeping fresh and unheated water in the boiler for a long time inside the boiler will cause oxidation, rust and as a result, the boiler will be perforated.
---
Gas Boiler Maintenance Services 24/7
Our recommendation after buying a boiler is how to maintain this product. You should know that even after buying a boiler, you should be very careful in using it so that you can use it for many years without any problems.
One of the most important things you can do in this area is to periodically repair and service your boiler. By doing this, you can always ensure that it is safe and avoid paying huge costs for major repairs or even repurchasing the boiler.
As a result, in case of any problem for the boiler, get help from experts in this matter, and in fact, leave the work to its technicians, because repairing and servicing boilers is not everyone's job!
Items that apply to the maintenance of boilers:
• One of the things you can do is wash the boiler once a year to reduce the number of Sediments on the floor.
• Another thing you can do is open and close the inlet valve to make sure it works properly. This is useful to prevent the boiler valve from rusting. If it rusts, you should close the main valve and call a plumber.
---
Emergency Boiler Safety Inspection
Nowadays, due to the widespread use of boilers, it is inevitable to pay attention to the safety and protection points of these devices. For this reason, I have prepared a few brief points about this, which I invite you to read.
Boiler technical inspection:
• Boilers must have a thermostat and a safety valve and be tested from time to time to ensure their correct operation.
• All repairs of these devices should be done by experts and in no way should ordinary and non-specialized people attempt to repair them in this way.
• The placement of flammable materials around the boilers should be avoided separately.
• Under no circumstances should the non-combustible fuel on which the boilers are designed and built be used.
• Boilers should be installed and operated in a place that has a minimum humidity to prevent rusting of their body.
---
Annual Gas Boiler Cleaning Services in Greater Vancouver and Fraser Valley
Chemical cleaning of the boiler can play an important role in its maintenance. Proper chemical cleaning removes sediment from inside the boiler tubes, which increases the boiler heat rate. Chemical washing and cleaning of the boiler for its service are done in the following cases:
• Chemical washing and boiler service before first commissioning or after repairs (removal and cleaning of oil, grease, and other particles and contaminants left during construction)
• Acid washing after commissioning and a period of operation to remove sediment layers.
• Chemical washing of the flue section, which is done after starting the boiler to remove the acidic compounds of liquid.
The need for chemical cleaning of the boiler should be determined by descaling the sample tubes, not the amount of time elapsed since the last wash. Optimizing the boiler and improving the chemical properties of the water, maintenance and commissioning methods can increase the time between washes.
---
Why Skylimit Heating and Gas?
Usually, every organization or company has characteristics that make it superior to others. Skylimit Heating & Gas also has exclusive features that have made many customers trust us and leave the repair and service of their boilers to us:
• Has expertise and work experience in the field of boiler repair
• professional in troubleshooting
• Extensive experience in repairing all types of boilers
• Boiler repairers are punctual and set their working hours with customers
• Service in all areas
• Reasonable and fair costs for boiler repairs
• If necessary, use authentic original and company parts
---
Professional Boiler Installation in Greater Vancouver and Fraser Valley
Trust us when it comes to boiler installation in the Vancouver area and when we tell you about safety.
If your boiler is not working or not of the right size for your house, so it will not function as efficiently as other high-efficiency boilers, and also if your boiler is not expertly replaced and installed, and it may not even work safely, call us to book your installation appointment and boiler replacement with our expert's boiler gas technicians today.
---
Boiler Brands We Fix, Service, and Install
Choose your brand if you have any boiler problems or ask us about your boiler brand, we can help you anytime, all you need you can call us for brand questions at 7788925119 like Viessmann co, Navien, Super Hot, and more.
---
Service, Repair, and Installation Locations We Cover
We cover all boiler services in Greater Vancouver and Fraser Valley 24/7 if you need any boiler services call us at 7788925119 or you can click on your city on this page and choose it for more information and we send our boiler experts to take care of your boiler during cold winter.