What should you do if your gas fireplace breaks down or does not work? The gas fireplace is one of the devices that in case of any problem, you should contact the relevant expert and refrain from any arbitrary action.
When it comes to reliable gas fireplace repair services in Burnaby, look no further. Our dedicated team of experts is committed to ensuring your fireplace operates safely and efficiently. With years of experience in gas fireplace repair, we specialize in addressing a wide range of issues, from gas fireplace maintenance to gas line repairs.
Our skilled technicians are equipped to provide top-notch solutions tailored to your specific needs, backed by a reputation for quality craftsmanship and exceptional customer satisfaction. Trust us to restore the warmth and comfort of your home with our professional fireplace repair services in Burnaby.
All Our Gas Fireplace Services
Emergency Gas Fireplace Repair Burnaby 24/7
We repair and service all gas fireplace makes and brands such as Valor, Montigo, Napoleon, Regency, Enviro, and much more, and also when it comes to gas fireplace repair Burnaby you can count on our experience.
For gas Fireplace Repair Burnaby, Gas Fireplace Installation, Gas Fireplace Service, or emergency gas fireplace repairs call our office today to book an appointment. SkyLimit Heating and Gas have dealt with all Fireplace make and models in Burnaby B.C. for more than 15 years, if you have a problem relighting your fireplace or if your gas fireplace won't stay lit, we can help.
24/7 fireplace repair Burnaby with us can be safe, cause we show you our knowledge when it comes to fireplace repair, there is no limit for SkyLimit Heating Services. If you living in Burnaby and Fraser Valley and have gas fireplace problems, Skylimit heating experts can help you any day during the cold winter and we can bring the heat to your family.
Gas Fireplace Troubleshooting
Gas fireplace troubleshooting is also one of the things that must be done by skilled and experienced people.
Our experts according to their skills and experience, in the first stage, try to troubleshoot the fireplace, and after making sure that the causes of the failure are identified, they make repairs or replace the defective part.
The cost of servicing or repairing a fireplace depends on factors such as the type of fireplace, performing part replacement services, the duration of the service, and so on. Performing periodic gas fireplace safety inspections prevents the excessive cost of repairs.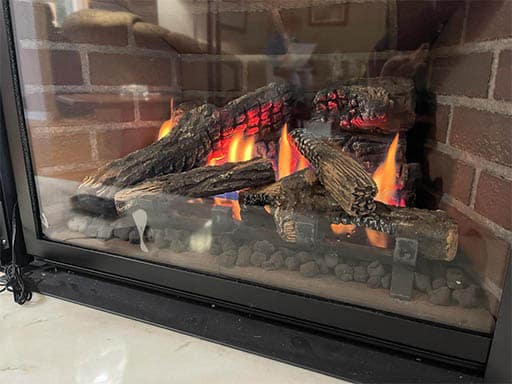 Burnaby BC Gas Fireplace Annual Safety Inspection
The gas fireplace is one of the tools that can be very dangerous if you do not follow safety tips. In order to prevent the risk of gas leakage, the fireplace should be equipped with a thermocouple and a separate valve.
Periodic gas fireplace annual safety inspection is essential to ensure the proper operation of the thermocouple. As well as periodic gas fireplace annual safety inspections to ensure that the gas fireplace is safe can prevent irreparable damage.
Call us! Not only are our expert service technicians quick and prompt, but they will also do a complete gas fireplace safety inspection.
Burnaby Emergency Gas Fireplace Service
It doesn't matter what model of fireplace you use in your home, gas fireplace service is the most important tip. After purchasing, installing, and setting up the fireplace, gas fireplace service should be done at specific time periods, preferably in the early winter season.
Experience unparalleled expertise in gas fireplace services right here in Burnaby. Our team is committed to providing top-notch maintenance, repair, and installation solutions to ensure your gas fireplace operates flawlessly and efficiently.
With a deep understanding of the intricacies of gas fireplaces, we offer a comprehensive range of services that cater to every aspect of your fireplace's performance. Trust us to keep your home both cozy and safe with our dedicated gas fireplace services in Burnaby.
Performing gas fireplace service not only saves you the cost of gas fireplace repair but also allows your fireplace to achieve the best efficiency ratings. The first and most important point that you should pay attention to when servicing the fireplace is to be done by expert and specialist people.
Our experts will be in your home whenever you want, they will perform all the processes related to the gas fireplace service carefully and completely. Don't waste time and contact us for your gas fireplace service.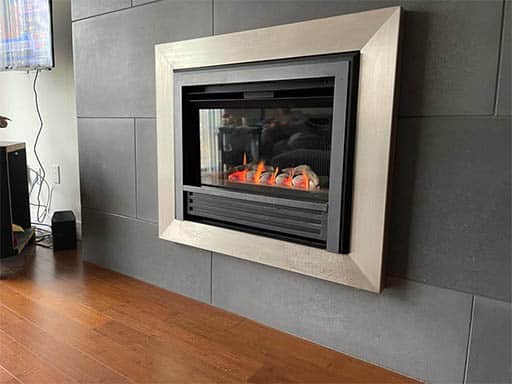 The Most Important Points About Gas Fireplace Maintenance
In addition to gas fireplace service, gas fireplace maintenance is also very important, which is done by you. Here are some tips and tricks to help you maintain your gas fireplace. Things you should do for gas fireplace maintenance include:
Clean the fireplace from dust.
Washing fireplace components and parts with water and specific materials.
Safety inspection of fireplace parts and make necessary repairs or replace defective parts.
Check the exhaust pipe of the fireplace in all seasons so that anything doesn't clog the pipe.
If you have installed metal sliding railings or shutters in front of the gas fireplace, make sure that they are healthy and strong, and never use these rods to dry clothes.
If for any reason you can't do this yourself, don't waste time and just contact our experts, and leave everything to them.
Important Points Before Gas Fireplace Cleaning in Burnaby
1- Before gas fireplace cleaning, in the first step, make sure that the gas valve of the fireplace is completely closed.
2- To clean the space inside the fireplace, be sure to try to use gloves and a mask.
3- Usually, most of the soot particles accumulate in the chimney, so it is necessary to clean the chimney once a year.
4- The best solution for cleaning a chimney is to use a coarse brush.
5- You can take care of the gas fireplace cleaning yourself and take the time to do so, or you can leave your fireplace cleaning work to our experts with ease.
Gas Fireplace Repair Burnaby Common Questions
Need gas fireplace repair?
Need a part or Need a fireplace cleaning?
Noisy blower and needs to be changed? or is the remote control not working?
Fireplace switch not working properly and Can't get it to start? or it shuts off after a while of use?
Your pilot flame doesn't stay lit? Or your pilot flame is on but after you turn on your switch nothing happened?
sky limit heating is here to answer all your questions for gas fireplace repair Burnaby, gas fireplace Installation Burnaby, gas fireplace service Burnaby.
Why Skylimit Heating?
1- Experienced, Knowledgeable, friendly and non-commissioned, and professional family company.
2- We guide you on your purchase to ensure your family's satisfaction and safety.
3- We are gas contractors and certified gas fitters who know right from wrong when it comes to gas works.
4- And also we use our own family installers and provide a one-year warranty, call us today for Emergency fireplace repair in Burnaby 24/7.
We all know gas fireplaces after a few years need some emergency repairs and you need a new part for your gas fireplaces, Skylimit heating and Gas always carry all parts when it comes to emergency fireplace repairs, and all our fireplace parts come with one year warranty.
| | |
| --- | --- |
| Thermocouple | Pilot Assembly |
| Remote Control | Remote Control Sets |
| Gas Controls | Thermostats |
| Gas Fireplace Glass | Thermopile |
| Gas Fireplace fan | Pilot Assemblies |
| Toggle Switches | Piezo Ignitors |
Fireplace Services checklist
Test your fireplace and venting for correct clearances, safe connections,
We Check and clean around your unit
Overall fireplace inspections
Cleaning of firebox & glass
Inspect burners for cracks & clean the pilot assembly
Check electrical circuits & connections
Visually inspect the blower motor fan(if available
Clean logs & ember reconstruction
Check for the leak under the pilot assembly
Relight pilot and check the following functions
100% safety check & gas valve lockout check-in pilot outage
Flame characteristics
And also Check Flame controls, thermostat, wall switches, etc
Gas leaks around connections
Carbon monoxide test
Clean logs & ember reconstruction
We do repair and service All makes and models in Burnaby
When it comes to gas fireplace repair Burnaby, If you see your fireplace brand here for emergency fireplace repair call us now and we can send our certified gas fireplace technicians because they can handle all fireplace brand services in Burnaby B.C.
| | |
| --- | --- |
| KingsMan | Valor |
| Selkirk | Superior-Lennox |
| Robinson-Willey | InstaFlame-Majestic |
| Napoleon | Heatilator |
| Myson | Archgard |
| Montigo | Hunter |
| Regency | Heat-N-Glow |
---
At Skylimit Heating and Gas in Burnaby B.C. we cover all gas fireplace services and also cover other cities.
Ensure the Safety and Efficiency of Your Home with Skylimitheating. With full-service Fireplace and maintenance, part installation, and repair.
We Can Repair Any Kind of Gas Fireplace in Greater Vancouver and Fraser Valley. Gas fireplaces make adding warmth to your BC home effortless