Call us at 7788925119 for 24/7 water heater repair Burnaby now, When your hot water system encounters issues, it can disrupt your daily routine and comfort. At [Your Company Name], we specialize in providing efficient and reliable water heater repair services in Burnaby, BC. Our experienced technicians are dedicated to diagnosing and fixing a wide range of water heater problems, ensuring your hot water supply is restored promptly.
Our Repair Expertise: With years of experience under our belt, Skylimit Heating and Gas is your trusted partner for water heater repair services in Burnaby. Whether it's a traditional tank unit, a tankless system, or a hybrid model, our technicians possess the knowledge and skills to identify and address various issues.
---
Table of Contents
---
Emergency Water Heater Repair Burnaby 24/7
for reliable water heater repair services in Burnaby, BC. Regain your hot water comfort by reaching out to us at 7788925119, for water heater repair Burnaby Skylimit Heating and Gas is your trusted partner for water heater repair services in Burnaby, BC. Our skilled technicians, swift response times, and dedication to customer satisfaction set us apart. With our expertise, you can enjoy the comfort of reliable hot water once again. Say goodbye to water heater problems and hello to a smoothly functioning hot water system tailored to your needs.
---
Emergency Water Heater Installation Burnaby B.C
Skylimt Heating and Gas excels in providing professional water heater installation in Burnaby. With our personalized solutions, skilled technicians, and unwavering commitment to excellence, we are here to revolutionize your hot water experience. Bid farewell to cold showers and say hello to the luxury of a professionally installed water heater designed to cater to your needs. Due to the limit of this article, we will provide information on more issues in future articles. Call us at 7788925119 for 24/7 water heater repair Burnaby now.
Our Installation Process:
Consultation: We commence with a thorough consultation to understand your hot water requirements, budget, and space constraints. This helps us suggest the most suitable options for your unique situation.
Selection: Building upon our consultation, we guide you in selecting the perfect water heater, considering energy efficiency, capacity, and other essential factors.
Professional Installation: Our skilled technicians execute the installation process meticulously. From connecting the unit to your plumbing to ensuring proper ventilation, we ensure every detail is attended to.
Safety Checks: Your safety is paramount to us. We conduct comprehensive safety checks to ensure your installation aligns with local codes and regulations.
---
What mistakes can happen during hot water tank installation?
1- The possibility of connecting incompatible metals together. For example, using nipples made of steel galvanized steel will result in dielectric union fitting by connecting to the copper pipes, leading to water dripping out of your water tank.
2- Are you following the safety protocols? The most common mistake while installing the new water heater is firing the heater before it is completely filled. This way, the chance of electric heating elements failure or cracking the tank will increase.
3- If you are not a technician, avoid installing a water tank yourself. The chance of tank explosion may increase when you forget to install the Relief Valve.
It is actually a safety feature designed to prevent this condition.
To prevent damage to yourself or your family, getting help from our experts and technicians is recommended. Just pick up the phone and call us for water heater repair Burnaby now.
Now the question is which type should you install? Tankless or storage water heaters?
---
Your Questions About Water Heater Repair and Water Heater Installation
How many years does a water heater last?
Between 8 to 12 years.
Can you fix a leaking water heater?
If leaks from water heaters pipes, yes but from the tank itself no.
How much does it cost to replace a hot water heater?
It depends on gas or also the capacity
How often should you replace your hot water heater?
10 to 12 years
---
Which one should I choose? Tankless water heater or storage water type?
You bought a new home. But your heater is acting out. If you want to choose a heater whether it is a tankless water heater or storage water type, you should always remember three things:
The size of the water heater depends on the house (the small sizes will cost you more)
The availability of fuel type needed for the heater
The budget you considered
Proper installation and maintenance (choosing the right man for this is crucial)
One of these expenses is related to fuel. This will have an effect on the operating cost and purchase price. Due to the use of electricity and natural gas in most models, this model would be efficient.
But if you have already put aside extra money, there are numerous types to choose from (solar, fuel oil, or tankless water type).
Call our experts to get more information on the prices and how much money you need to buy or install a new water heater system. If you choose tankless water heaters, not only the initial cost but also the repair cost would be higher than the traditional ones.
---
Emergency Water Heater Maintenance Burnaby B.C
Regular inspection of the water heater and maintenance will help in keeping your heater in good and efficient condition.
A regular inspection that you will be able to accomplish yourself is an inspection of important components of the heater, e.g. checking the pressure relief valve and anode rod.
Insulating the hot water pipes is a great way to increase the efficiency of the heater since it will prevent energy loss.
Using gloves and goggles, and disconnection the electricity is recommended for inspection. Also, always have a schedule for your regular inspections.
If your heater is old and not working properly anymore, and you weren't able to handle the issues and maintenance yourself, our team of technicians and experts are ready to provide you with plumbing,
emergency water heater repair, and replacement services for a whole week 24 hours.
---
Types of Water Heater Services and Water Heaters Brands:
We have perfect pricing and best water heater expert technicians and enough
knowledge of water heater installation, maintenance, and repairs, We also install and repair all types of commercial water heaters.
Our gas technicians and plumbers can provide quick service for all major brands and types of water heaters, like tanks, power vents and Tankless water heaters.
---
How Gas Hot Water Tank Works?
For emergency Water Heater Repair Burnaby call us now.
How the water heater operates and its efficiency is determined by three factors:
The tank combustion and airflow of both the incoming cold water pipe and the outgoing hot water pipe connect to galvanized steel pipes on the tank.
When water flows across to dissimilar metals the incoming cold water pipe attaches to the dip tube.
In the water heater, the dip tube distributes the incoming water to the bottom of the tank, to ensure that all of the water is heated thoroughly.
If the tube deteriorates and breaks the incoming water will stay near the top of the tank.
Where it won't heat properly although the interior of the water tank is metal it's coated with enamel, which prevents salt chemicals and other minerals in the water from attacking the metal.
A water heater will normally have a drain valve at the bottom of the tank as well.
---
Gas Water Heater Brands
SkyLimit Heating and Gas is your local water heater repair and installation company and we repair, service, and replace all water heater brands such as Rheem co, John Wood, Bradford White co, Giant, and more in Burnaby B.C and also in Greater Vancouver and Fraser Valley.
---
Tankless Water Heater Repair Burnaby
Tankless Water Heater Repair Burnaby and Tankless water heater Installation Burnaby 24/7 with Skylimit heating.
Plentiful and reliable hot water is essential for civilized life and tankless water heaters are the most recent major innovation to hit the Canadian household.
Most Canadian homes have tank-style water heaters, now these haven't changed.
Now as that tank cools off the thermostat turns on the source of energy again warming up the water and bringing it up to temperature even if no hot water has been used from the taps at all the energy is wasted.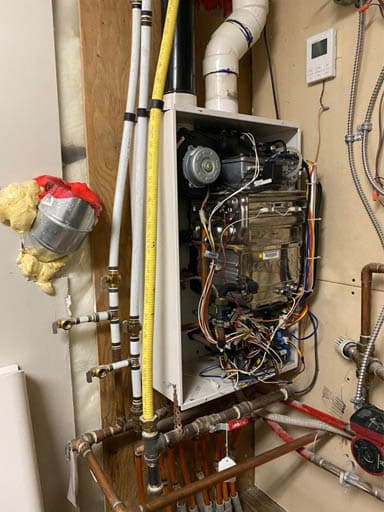 ---
Why Tankless Water Heater
The main reason why tankless water heaters are more efficient than tank tile, now as simple as a tank heater is it's also very large and takes up a lot of floor space.
The average one is more than two feet in diameter and almost as tall as an adult.
Now as you'd guess from the name tankless water heaters have no tank, that's why they're so small instead.
They heat the water instantly as it's demanded as soon as a hot water tap is turned on.
---
Benefits of Tankless Water Heater
Anywhere in your home internal sensors inside the heater detect the flow and ignite the propane or natural gas
that heats the water for the second or two that it's flowing through the unit the moment you shut off a hot water tap.
Anywhere in your house the flame and the heater stop to fill a sink to do some dishes, and the tankless heater is going to heat a gallon or two.
Whatever you need and no more when it's time to take a shower that same unit is going to a couple of gallons of water each minute up to 120 degrees or hotter.
Whatever you need for as long as you want to stand in the steaming spray stream tankless water. You came to the right place for Water Heater Repair Burnaby.
Heaters never run out of hot water the fact that tankless units only heat water as it's needed is why this technology is sometimes called on-demand water heaters.
Tankless water heaters do cost more than tank-style equivalents and this is one reason why tankless technology is not for everyone tankless.
Emergency Water Heater Repair Burnaby and Water Heater Replacement in Burnaby 24/7 with Skylimit Heating and Gas.