Don't Forget to Repair Gas Water Heater, looking for a water heater and tankless water heater repair and installation in Maple Ridge B.C? here is an emergency water heater repair Maple Ridge contact number: 7788925119.
Emergency Water Heater Repair Maple Ridge 24/7
Although this system is one of the most applicable home appliances, it can easily be forgotten and you may find out about the problems just when you are going to take a shower, also here is an emergency water heater repair Maple Ridge contact number: 7788925119, call us for following conditions and we send a technician to fix your system:
• You are receiving water with unusual colours from the hot water tap. This can result from rusty pipelines, built-up sediments, and other conditions.
• You spot the unit is leaking water. If not being taken care of or noticed early, you may see your floors, ceilings, or wall are all damaged.
• System efficacy is declined, you are receiving less hot water, and the bills are also increasing in comparison to the previous months.
If you notice the above problems, don't hesitate to contact our number. One of our professionals will visit you on the nearest day possible.
Gas Water Heater Services in Our Company
If you look at the market, there are two types of water heaters that you can find: traditional (tank) water heaters and tankless water heaters. The choice will be based on what you need and what these two types are offering. Let's take a brief look at both types, here is an emergency water heater repair Maple Ridge email address: skylimitheating@gmail.com.
Traditional or Storage Gas Water Heaters Installation
Tank or storage water hears, as the name suggests, came with an additional tank for storing water. Based on the family's amount of water use or the number of family members, you can choose the type and tank size for your house. For example, the following tank sizes are recommended:
• Families with 1 to 2 individuals: 30 to 40 gallons
• Families with 2 to 3 individuals: 40 to 50 gallons
• Families with 3 to 4 individuals: 50 to 60 gallons
• Families with more than 5 individuals: 60 to 80 gallons
However, the next option, a tankless water heater, is mostly recommended for more than 6 individuals. If you have also considered a separate budget for this system, which is higher than a tank water heater, we better introduce you to a tankless version, here is an emergency water heater repair Maple Ridge phone number: 7788925119.
Tankless Water Heater Installation
Hot water is the most used thing at your house and it is estimated that we, especially teenagers with their long shower, consume 40- to 50-gallon water in one year. Therefore, having hot water ready at any time we want is crucial. For this reason, installing a tankless water heater is mostly recommended especially for crowded families or those with high use of water.
In terms of monetary issues, tankless water heaters will cost you more than traditional ones due to be more sophisticated, compact, and energy-efficient. However, most people prefer traditional gas water heaters due to being cheaper.
It is worth mentioning that our company is offering both gas tankless and tank water heaters for your houses. To have a better insight into our product, prices, and other related information, call our technicians and we will help you in choosing the best one for your house.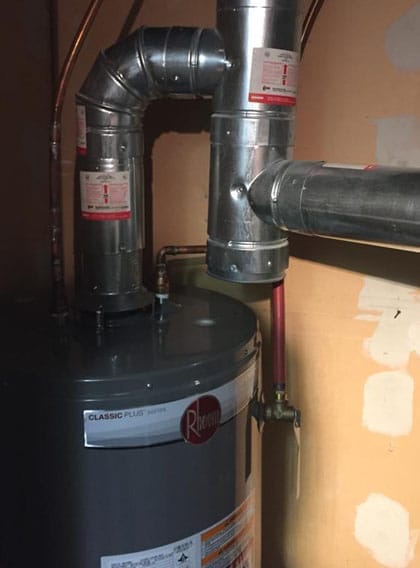 Save Family from Danger by Gas Water Heater Safety Inspection
Whether you have a tankless or tank water heater, it can pose a serious danger to the family if not being inspected for safety reasons. In gas water heaters, there are many reasons behind this inspection, one of which is to check that whether gas is circulating well in the pipes and the burner is working properly.
If not, you can be assured that the gas from the system will accumulate in the house and one spark can blow your house to the ground.
So, never underestimate the safety inspection of your gas water heater. If you have a pre-set date for a safety inspection, call our technicians, and remind them and set a date for the inspection process.
Gas Water Heater Brands:
SkyLimit Heating cover all gas water heater repair, service, and installation in Maple Ridge B.C and also we fixing and installing all gas water heater brands and Tankless water heater brands in Greater Vancouver and Fraser Valley such as John Wood, Bradford White, Rheem co, Kenmore, Giant, General Electric and more, here is an emergency water heater repair Maple Ridge email address: skylimitheating@gmail.com.