Perform Regular Maintenance Before the Need for Water Heater Repair: Call us 24/7 for water heater repair West Vancouver at 7788925119. By servicing and maintaining it, you are practically increasing the life of your water heater. As long as you stay vigilant about water heater maintenance, your water heater will be less likely to need repair and even a replacement.
we take pride in offering the best water heater repair services in West Vancouver. When your water heater encounters problems, our dedicated team of experienced technicians is here to provide swift and effective solutions. We understand the inconvenience of a malfunctioning water heater, and that's why we prioritize quick response times and efficient repairs. Whether it's a lack of hot water, strange noises, leaks, or any other issue, we have the expertise to diagnose and address the problem accurately.
---
Table of Contents
---
Emergency Water Heater Repair West Vancouver 24/7
For 24/7 water heater repair services and hot water tank and tankless water heater installation in West Vancouver B.C., you can count on our experience, we repair and install all gas water heaters brands such as Rheem, Bradford White, John Wood, Giant, and much more in West Vancouver and also in Greater Vancouver, here is a 24/7 water heater repair West Vancouver email address: skylimitheating@gmail.com.
Our transparent pricing, combined with our commitment to delivering top-notch service, makes us the go-to choice for all your water heater repair needs. Don't let a faulty water heater disrupt your daily routine – contact us today to restore your comfort and convenience.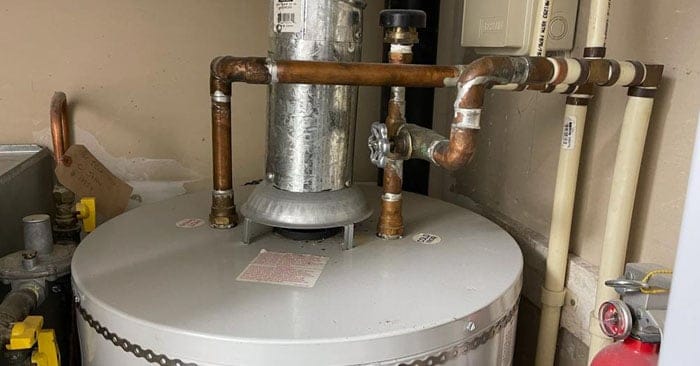 ---
Water heater Installation in West Vancouver?
Discover unmatched water heater installation services in West Vancouver with Skylimit Heating and Gas. Our dedicated team of skilled technicians is ready to transform your hot water experience. From traditional tank-based systems to cutting-edge tankless models, we specialize in seamless installations tailored to your needs. Your reasons for replacing the old system with a new one can depend on a couple of variables. One of the important reasons can be the malfunctioning of the system due to the following problems:
• Your water heater unit has started leaking water.
• After a couple of repairs and part replacement, the unit is still malfunctioning.
• You hear strange and disturbing noises coming from the unit.
The problems are not the only reasons you want to change your water heater. State-of-the-art water heaters are manufactured to give 20% more efficiency and save you from more energy costs.
If you intend to replace your water heater and require more information, call our technicians in our office and they will help you choose the best unit, here is the emergency water heater repair West Vancouver phone number: 7788925119.
---
Gas Water Heater Brands
SkyLimit Heating and Gas is your local water heater repair and installation company and we repair, service, and replace all water heater brands such as Rheem co, John Wood, Bradford White co, Giant, and more in West Vancouver B.C. and also in Greater Vancouver and Fraser Valley, here is a 24/7 water heater repair West Vancouver phone number: 7788925119.
---
Service Your Water Heater, the Most Important Part of Your House
Everybody knows that when the water heater is damaged, it will be hard to create comfortable living conditions for the household. When the water heater is not working, your dirty dishes will be built up, shower times will be over for the time being, and doing other house chores will be impossible.
This is the time you know you have to service the unit. But how can it be done?
Well, it is easy. You just have to schedule one of the following required services with our office to fix the water heater problems:
Water Draining as Part of Water Heater Maintenance
In the following paragraphs, the process of water draining during system maintenance is given in short:
"The water unit will be flushed in the maintenance process in which all the sediments, dirt, and debris will be removed. To do so, first, the water supply, and then the power just shut off.
Next, a period of 15 to 20 minutes will be given for water to cool down. As soon as the water cooled down, the drain valve must be opened so that all the water flows out of the tank. After all the water is drained, you can refill the tank. here is an emergency water heater repair West Vancouver and Tankless water heater installation phone number: 7788925119.
---
Inspecting Water Heaters for Safety Must Not Be Ignored
Unfortunately, most of the customers have forgotten about the importance of this service, even ignoring it for some reasons. But safety inspection is not something that can be overlooked. As the manufacturers have stated, modern water heaters are capable of functioning for 10 to 15 years.
However, the systems over 10 years need to be inspected annually. Small problems, e.g., wear and tear, in the water heater unit are hardy indefinable. However, by inspecting the system, they will be spotted before turning into big problems.