When you looking to Find reliable boiler repair Maple Ridge, boiler service, and boiler cleaning services you can find Skylimit Heating and Gas names as a gas boiler repairs specialist too.
Our Expert Boiler Repair Services:
Swift Diagnostics: Our experienced technicians are adept at quickly identifying boiler problems. From unusual noises to heating inconsistencies, we have the expertise to pinpoint the issue accurately.
Comprehensive Repairs: No boiler issue is too complex for us. Whether it's a faulty thermostat, a leaking valve, or a malfunctioning component, we have the knowledge and tools to perform comprehensive repairs.
Emergency 24/7 Services: Boiler problems can occur at any time. That's why we offer 24/7 emergency repair services in Maple Ridge. You can rely on us to respond promptly and restore your heating system when you need it most.
We provide safe, fast, and professional boiler services in Maple Ridge and Greater Vancouver. Call us today and let us know what is happening to your boiler so we can make an appointment and get your boiler working perfectly again.
Emergency Gas boiler repair Maple Ridge B.C
As we said, it usually happens when your boiler stops working and you need someone to repair it. what are the symptoms of this? Well, there are a few reasons why you have to call someone and take a look at your boiler. Let me emphasize it! You might be able to handle a few of these common problems.
However, is it worth it to waste your time and deal with something which is not completely known to you? So, if you see one of the following symptoms, don't hesitate to call a trusted agency for help, also here is the emergency boiler repair Maple Ridge contact number: 7788925119.
Inaccurate thermostats, leaking or dripping, impractical heating systems, wired and kittling noises, low pressure, and frozen condensate pipe are some of the common problems that need technical touch. Also, sometimes, the radiators aren't getting hot or the boiler is frequently turned off by itself. Under the above-mentioned situations, please, call an expert and ask for help.
Annual Gas boiler installation Maple Ridge B.C
What is the best Gas boiler in Greater Vancouver? Please, don't bother to find an answer. It doesn't matter what Gas boiler you are using when the installation hasn't been done correctly. So, you have to pay for a professional installation as much as you are spending for a nice gas boiler. This is how you can make sure of the safety and reliability of your gas boiler, also here is the emergency boiler repair Maple Ridge contact number: 7788925119.
Boiler Brands We Repair, Service, and Install:
SkyLimit Heating and Gas repair, service, and install all gas boiler brands such as Navien Co, Viessmann, Super Hot, Laars, Slant Fin, Weil McClain, Burnham, and much more in Greater Vancouver and Fraser Valley, also for boiler brands repairs you can reach us here for boiler repair Maple Ridge emergency phone number at 7788925119.
Maple Ridge B.C Gas boiler service 24/7
Even when you buy the most high-tech gas boiler, breaking down could happen at any moment. You should not expect your gas boiler to alarm you when it's running a problem. So, what do you need if something terrible happens to your gas boiler very suddenly? Definitely, the answer is a vigilant gas boiler service. This service must be provided to you by well-experienced technicians. People who know how to effectively and efficiently deal with your problem.
The service must be accessible online through many diverse platforms such as Instagram, WhatsApp, YouTube, etc. Also, the service must be cost-effective. Obviously, you don't want to spend too much on it, also here is the emergency boiler repair Maple Ridge email address: skylimitheating@gmail.com.
Professional Boiler Service Maintenance in Maple Ridge, BC:
Skylimit Heating and Gas is your trusted partner for expert boiler service maintenance in Maple Ridge, BC. Our skilled technicians are committed to ensuring your boiler operates flawlessly, providing you with efficient and reliable heating year-round.
Invest in the longevity and performance of your boiler with our professional service maintenance in Maple Ridge, BC. Contact us today to schedule your maintenance appointment. Our technicians will ensure your boiler operates flawlessly, providing you with a comfortable and worry-free environment.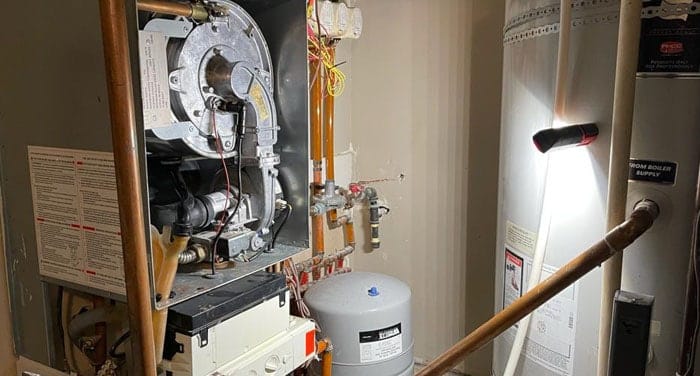 Boiler parts during Repair and Service checkup:
Transformers
Gas Control
Zone Control Valves
Back Flow Preventer
Aqua Stats
Water Regulator
Relays
Air Vents
Automatic Damper
Control Board
Control Module
Mixing Valves
pilot assembly
Maple Ridge B.C Gas boiler maintenance Services
this involves many practices. Fortunately, many of them can be done by you without asking for help. So, don't ask for help when you can deal with the situation yourself. The first thing to know is on-time service. The best is to do it once a year.
The same is true with bleeding the radiators. Also, boiler pressure must be checked frequently. Moreover, balancing the radiators, checking the boiler flame and proper ventilation, and looking for dripping from the external pipe are other things to do to secure your instrument. More importantly, if your boiler needs serious repair, don't do it yourself.
Gas boiler safety inspection In Maple Ridge
be careful! The safety inspection is different from maintenance! However, it might overlap a bit. There are defined protocols for inspecting gas boilers. It is out of this short essay's scope, also here is the emergency boiler repair Maple Ridge contact number: 7788925119.
However, things like checking ignition devices, cleanliness of drains, testing heating and hot water, inspecting the entire chimney structure, making sure of the effectiveness of the flue, and following the standards concerning the ventilation requirements are some issues that must be taken care of by the safety inspection procedure.