Water heaters are not error-free. One day they are working properly but the other day they will stop working. You should look for water heater repair services if you want to avoid a costly situation in the long term, Here is the water heater repair North Vancouver emergency phone number: 7788925119, If you're in North Vancouver and facing issues with your water heater, look no further! Our professional water heater repair services are here to provide you with top-notch solutions to ensure your comfort and convenience. Our team of skilled technicians specializes in diagnosing and repairing a wide range of water heater problems, ensuring that you have access to hot water whenever you need it.
Are you having the following problems:
• The tainted water is coming out of the taps
• Water pressure is not fixed
• Noticing rust or deterioration of plumbing pipes
• Water tastes abnormal
If you don't act on the above-mentioned problems, not only you will damage the heater but the tank itself. This is the reason why we recommend you call us without wasting any time.
---
Table of Contents
---
Emergency Water Heater Repair North Vancouver B.C
Are you having problems with your water heater in North Vancouver B.C.? Do you need water heater repair services? You can rely on us, Our professionals and technicians at the "Skylimit Heating" are ready to help you anytime. With their long experience, they will find the main issues and fix them, here is the water heater repair North Vancouver contact number: 7788925119.
Don't let a malfunctioning water heater disrupt your daily routine. Our water heater repair services in North Vancouver are designed to bring comfort and reliability back to your home. With our skilled technicians, transparent pricing, and commitment to customer satisfaction, you can trust us to handle all your water heater repair needs. Contact us today to schedule a service and enjoy hot water without interruptions.
---
Emergency Water Heater Installation in North Vancouver 24/7
Professional Water Heater Installation Services in North Vancouver:
Are you considering upgrading or replacing your water heater in North Vancouver? Look no further! Our expert water heater installation services are here to ensure you have a reliable and efficient hot water supply. With years of experience and a commitment to quality, we are your go-to choice for hassle-free water heater installations.
Are you looking to purchase a new water tank in North Vancouver B.C.? Have you encountered problems with the installation process? Well, you came to the right place. Our company "Skylimit Heating" with its technicians and professionals is ready to provide you with high-quality hot water systems.
You don't need to worry anymore. Pick up the phone and give us a call or you can just contact us from the website itself. If you are interested in installing a modern and efficient water heating system, all you need to do is call our number or send us an email from the company website.
We will send our technicians to your house, here is the water heater repair North Vancouver email address: skylimitheating@gmail.com.
Our technician, after inspecting your house, will help you choose the right water heater at the most reasonable price. In addition, they will help you choose considering the following factors:
• Type of fuel for the heater (it must be noted that all of our heaters are gas-type)
• The size of the heater (it depends on the place of installment)
• Energy efficiency
• The budget
---
Contact Us for Emergency Water Heater Maintenance
Most of the customers that call our office are dealing with the old version of water heater systems. These customers are looking for emergency water heater maintenance. Well, I have good news for you. It doesn't matter if it is a new gas water heater or an old one.
Our certified experts and technicians are all experienced with different types and models of water heater systems making the "Skylimit Heating" company a unique choice to maintain your heaters, also here is the water heater repair North Vancouver phone number or text:7788925119.
Here, we don't limit our technicians. We always encourage our team to learn, gaining superior knowledge about current and past water heater systems. So whenever you need us, we can give you all the necessary guidance and services you may need.
Our main activity is around gas-type water heaters, tankless water heaters, and gas furnaces. So if you need any service related to emergency maintenance of the above systems, repair, and inspection, you can always count on our team. We would always be capable of conducting the tasks given.
---
Tankless Water Heater Installation
How can I save money using a tankless water heater?
If you are living in Canada, you would know that tankless water heaters are considered a solution for money and energy problems. By installing a tankless water heater, did you know that customers can save money and energy?
Who doesn't want to have a discount of almost 34% on their next utility bill? Knowing this feature, now we see that there are special markets for selling tankless water heaters in Greater Vancouver and especially in Canada, here is the water heater repair North Vancouver contact number if you have any questions: 7788925119.
Lowering the utility bills is not the only benefit of tankless water heaters. They also have a longer life than traditional water heaters, up to 20 years, and come in smaller sizes in comparison to their counterparts. So you can delete the idea of replacing the tankless water heater from your head for another 20 years.
---
Gas Water Heater Brands
SkyLimit Heating and Gas is your local water heater repair and installation company and we repair, service, and replace all water heater brands such as Rheem co, John Wood, Bradford White co, Giant, and more in North Vancouver B.C. and also in Greater Vancouver and Fraser Valley.
---
So doesn't it mean that my tankless water heater will not need any repair?
We never said that this system would be flawless. Of course, like every machine and system at your house, tankless water heaters will also encounter a problem that may need repair or troubleshooting the issue.
So, these are the types of problems that the customer himself/herself can not cope with and must be fixed by a licensed technician. Well, you are in the right place, here is the water heater repair North Vancouver email address: skylimitheating@gmail.com.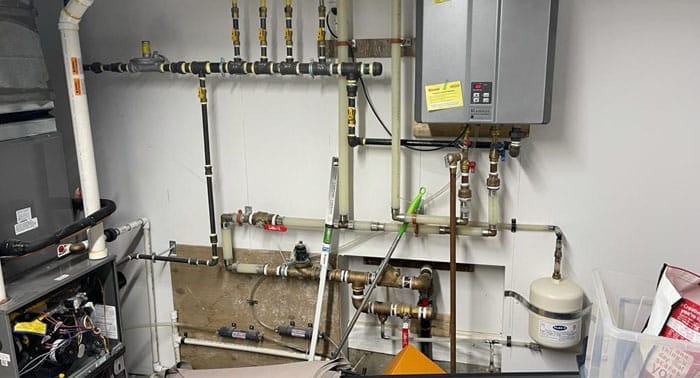 In addition, some of the parts of tankless water heaters such as will need to be replaced due to being worn out. Other problems that may occur for tankless heaters include
(1) no water is coming out, and
(2) water is not hot enough.
If you are reading this article, it means you already encountered a problem with your heater. Just give us a call and enjoy our teams of technicians and services.