Call us now for an emergency water heater repair Vancouver at 7788925119, When your trusty water heater starts acting up and your daily hot water supply becomes uncertain, it's time to call in the experts. Our professional water heater repair services in Vancouver are here to ensure your comfort isn't compromised. Whether it's a leaky tank, a malfunctioning pilot light, or a lack of hot water altogether, we've got you covered with swift and reliable solutions.
Call skylimit heating and gas for emergency water heater repair Vancouver and also hot water tank installation.
---
Table of Contents
---
Emergency Water Heater Repair Vancouver:
Common Water Heater Problems We Address:
Leak Detection and Repair: A leaking water heater can cause damage and increase energy bills. Our experts identify and repair leaks promptly to prevent further complications.
Pilot Light Issues: If your water heater's pilot light refuses to stay lit, our technicians can determine the underlying cause and provide efficient solutions.
Inconsistent Temperature: Are you experiencing fluctuating water temperatures? We'll inspect your unit's heating element or thermostat and restore consistent hot water delivery.
No Hot Water: When your water heater isn't producing any hot water, it can disrupt your daily routine. Our team quickly identifies the root cause and implements the necessary repairs.
Sediment Buildup: Over time, sediment can accumulate in your water heater, affecting efficiency. We offer thorough flushing and cleaning services to restore performance.
---
Why should I require any hot water tank repair Vancouver?
When it comes to repairing, installing, and servicing water heaters, you can trust us. we are one of the leading firms to operate in Fraser Valley Water Heater Repair and Installation in Greater Vancouver, call us now for emergency water heater repair in Vancouver.
Have you encountered any problems? We are just 1 phone call away from you. Our team of technicians and experts are ready to help you with gas water heater repair services and will give you a knowledgeable guide and proper options to choose from.
Our team of experienced water heater installers and repairmen is dedicated to providing the best services at the best prices to our clients. If you searching for Water heater repair in Vancouver and also planning to replace or repair your old Water heater, we are the ones to call.
We offer all kinds of water heaters, from gas to tankless water heater replacement and emergency hot water tank repair.
Call us now For Water Heater Repair Vancouver Services and also in Fraser Valley, and also for emergency Water Heater Repair Vancouver 24/7.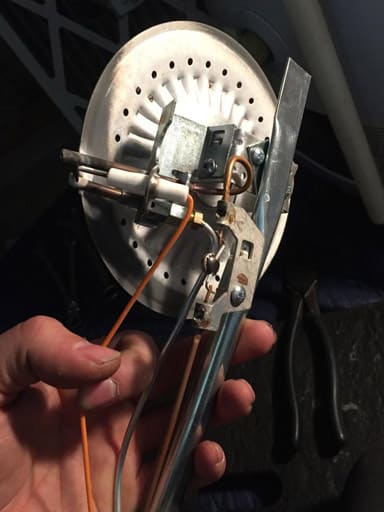 ---
What is the best time for hot water tank installation or replacement?
There are some times that although you have done everything in your power to keep the water tank maintained and fixed, you will face the inevitable one day. Your hot water tank will break down, stop working, or it is an old type. Trying to fix them will end up with more costs (due to gas use) than even replacing them with new ones.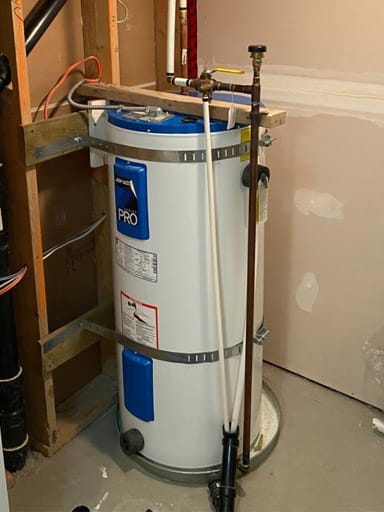 Our Installation Process:
Consultation: Our experts begin by assessing your hot water requirements, budget, and space constraints. We'll discuss the most suitable options for your home.
Selection: Based on our consultation, we'll help you choose the right water heater for your needs, considering factors like energy efficiency and capacity.
Professional Installation: Our skilled technicians handle the entire installation process with precision. From connecting the unit to your plumbing to ensuring proper ventilation, we leave no detail overlooked.
Safety Checks: Safety is our top priority. We perform thorough checks to ensure the installation meets local codes and regulations, providing you with peace of mind.
---
What does tankless water heater installation require?
Conventional water heaters are large in size, occupying a significant part of the house (depending on where you want to install them). However, if you are living in a compact size apartment, tankless type heaters will be a priority for you, for tankless water heater repair and water heater repair in Vancouver 24/7 call us now.
There are some tips you should know about tankless heaters:
Relatively expensive due to being more complex than conventional water heaters.
The elevation is one of the factors that should be considered while installing tankless heaters. Some manufacturers stressed this as an important factor.
Tankless heaters are produced with a sensor that is used to calculate the water flow. Having a water flow of less than ½ gallon per minute will not turn on the burners.
After the necessary inspections, our technicians will help you find the right heater based on your needs and budget.
---
Emergency Water Heater Maintenance
One of the perks of working with our company is that our experts are ready to answer your questions 24/7.
Are you having problems with your gas water heater?
Are they requiring emergency maintenance or repair?
Is it time for you yearly or 6-month maintenance?
You can call us and enjoy the services provided by our experts and professionals.
---
What problems may require emergency maintenance services?
If you open the tap, does the water have a different and unusual color close to reddish-brown? Well, it seems that your water has become rusty and if you taste it, it tastes like pure metal.
Noise can be a sign of a serious issue. I am not talking about a random voice that you may hear once in a while. If you hear the voice constantly, you may be in need of immediate action.
Imagine being in the shower and you don't have water coming out of the taps anymore. Or you have noticed a decreased pressure of water. Our energetic experts are ready to free you of your concerns and problems related to gas water heaters.
---
What kind of problems may cause tankless water heater repair services?
Some of the problems that you may encounter are as follows. However, always remember that we guarantee the products and services that we provide for you. Our technicians will help you choose the right heaters and give you the best after-sale services of any kind.
Dirty filter that may result in the reduction of hot water flow.
Non-continuous supply of hot water.
Problematic burners, sensors, or controls can cause the system to be less effective, and the water heaters will be unable to provide hot water to the house.
---
Water Heater Warranty and Labour
All water heaters we provide are top of the line and they come with a standard warranty valid for 8 years.
Our technicians can easily and quickly repair the water heater as long as there is no leakage in the hot water tank, for emergency water heater repair in Vancouver 24/7 email us @ skylimitheating@gmail.com.
We also carry the majority of water heater components enabling us to ensure that you get to enjoy hot water again in less than an hour.
Call us anywhere for any queries regarding water heaters. Water Heater Repair Vancouver 7788925119
Some of the different repair parts for water heaters that we carry include the following:
Gas Control
Temperature and Pressure Relief Valve
Drain Valve
Gas Control
Piezo Ignitor Assembly
Pilot Assembly
Thermocouple
Piezo Ignitor Assembly
High Limits
Water Heater Repair Vancouver checklist:
Inspect the hot water heater for cleaning and checking cracks from the burner
Control ventilation air and check for CO leak and gas leak test
Flush the tank from the hot water tank and make sure there is no dust inside
Inspect the main burner and pilot assembly for cleanliness
Check the ignition of the main burner and safety valve for proper operation and safe starting
test the venting and chimney
Open the burner and tuneup pilot assembly and clean the thermocouple
Below you can find the brands we are experts:
State
Giant
Kenmore
General Electric
Your questions about Water Heater Repair and Water Heater Installation
Why would my water heater leak?
because of corrosion after so many years metal and water with oxygen cause water leaks.
How do you maintain a water heater?
The best way to service water heaters is to do annual water flashing every year.
What causes hot water to stop working?
Few reasons like water leaks, defective thermocouples or thermopiles, and also safety switches.
Water Heater Repair Vancouver and water heater installation, so if you see any water around your tank like any leaking call us before more problems.
Gas Hot Water Heater Problems, Tankless Water Heater Hot Water Heater Leaking but you don't know what should you do we are here to help you also for 24/7 water heater repair Vancouver at 7788925119.