When you need furnace repair services, Skylimit Heating and Gas will provide the best professional gas furnace repair, gas furnace service, gas furnace maintenance, and furnace installation in Greater Vancouver and Fraser Valley, here is the gas furnace repair Maple Ridge contact number: 7788925119.
With years of experience and a commitment to excellence, we specialize in diagnosing and addressing a wide range of furnace issues. Whether it's strange noises, lack of heat, or other malfunctions, we have the expertise to bring back efficient heating to your living spaces. Trust us to provide reliable and efficient gas furnace repair, ensuring your home remains warm and cozy throughout the seasons.
When you need emergency furnace repair and gas furnace repairs services in Maple Ridge B.C and Greater Vancouver and Fraser Valley call us 24/7 and we will be there right away.
Gas furnace repair Maple Ridge B.C will be considered the last solution
The main reason for all the above-mentioned services is to prevent you from reaching this point, to fix the furnace, and even being forced to purchase a new one. Winter is coming, and this is when your gas furnace in the house is no longer functioning, and you are not capable of turning it by pressing the on/off button.
As we always say, there is nothing to worry about when you hire us to fix the system. You are a lucky person. We are here to help your all year round. You can reach us by calling our number and the website and after that, one of our technicians will contact you soon, also here is the emergency gas furnace repair Maple Ridge contact number: 7788925119.
Gas furnace Installation is Just the Beginning
Do you think there will be no need for anything after installing a gas furnace at your house?
Well, you are definitely wrong. Yes, you called our number and purchase a gas furnace with a certain brand, and then a technician was sent to install the system. You assume that 'Okay, everything is done. I won't need to make other expenses anymore'. But you are mistaken.
It is true that brand new furnaces such as Armstrong, Comfortmaker, and KeepRite, will be guaranteed to stay functional for more than 12 years. In order for such a thing to happen, however, you must consider options that will increase the life of your system, here is the gas furnace repair Maple Ridge and emergency installation contact number: 7788925119.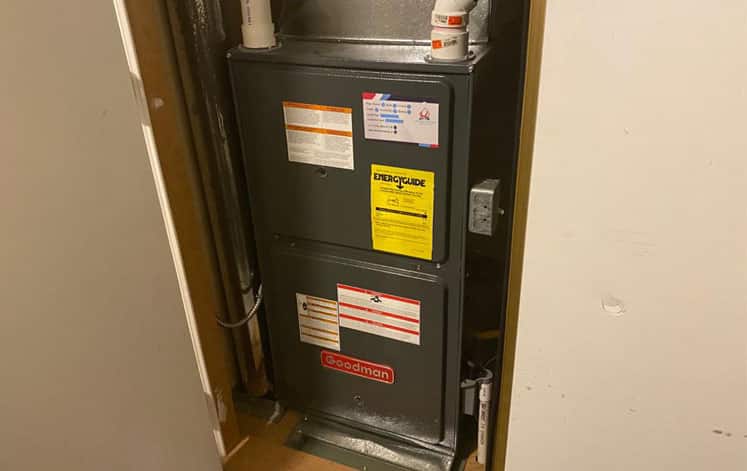 We Install All Gas Furnace Makes and Models
SkyLimit Heating and Gas is your 24/7 gas furnace repair and installation company in Maple Ridge B.C, also we repair, service, and replace all gas furnaces brands such as Lennox Co, Goodman, Carrier, American Standard, and more in Maple Ridge and Greater Vancouver and Fraser Valley too, here is the emergency phone number for Furnace repair Maple Ridge: 7788925119.
Gas Furnace Service: How often should the system be serviced?
I understand all the customers that visit our company. Trust me, most of them are not eager to buy a new furnace after a couple of years of using the previous systems. The truth is if you don't care about the system, it will shut down. A key part of the long life of a gas furnace is to service the system regularly. By doing such a procedure, you will prevent any common malfunction.
There is nothing to worry about timing and how to perform such an important process. After the system was installed by our technician, he will guide you through the process. Then, together you will decide on the date on which the system will be serviced, also for repair services in Maple Ridge B.C here is the gas furnace repair Maple Ridge contact number: 7788925119.
From meticulous cleaning to comprehensive servicing and essential maintenance, we go above and beyond to optimize the performance and efficiency of your gas furnace. With our attention to detail and unwavering commitment to excellence, you can trust us to provide the highest quality gas furnace service, creating a cozy and inviting atmosphere within your home.
Saving Money by Regular Maintenance of Gas Furnace
The main reason behind the gas furnace service is to prevent our customers from spending too much money and give them a chance to save their money for their other needs. Which one will you prefer:
maintaining and servicing the system at lower rates or fixing or purchasing a new system that trust me will cost you more than those two options? By maintaining and servicing the system during spring and fall, you will ensure that no problem will occur and the system will run smoothly during most needed times.
Gas Furnace Safety Inspection for Proper and Safe Operation
During the safety inspection, the technician will inspect your system top to bottom to secure your system, to make sure that the system will operate without posing any danger to the user. Don't worry and keep in mind that your technician will perform anything required to ensure your and your family's safety.
He will check system controls, physical damages to the systems, defaulted heat exchanger, electricity connection, etc. Of course, if you have any questions, you can always contact us and enjoy our services, also here is the gas furnace repair Maple Ridge email address: skylimitheating@gmail.com.
Maple Ridge's annual maintenance service includes:
| | |
| --- | --- |
| Check the heat exchanger and safety inspection | Control the blower, shaft, and belt |
| Inspect the venting system | Clean the burners and the pilot assembly |
| Flame rod sensor, surface igniter, and thermocouple. | Check the ventilation air. |
| Lubricate the motor | Test the fan blower |
| Replace and clean the filter | The gas pressures |
| Test inducer motor and pressure switch | Direct drive motor |
| Condensation system and pump | Belt drive motor |